D: It's nice to make your acquaintance, Oda-sensei. First of all, "You're not a naughty, big person!" Secondly, those little Tontattas are so goddamn cute! I want to know as many names and positions as possible. Please tell me.
If you don't, I godda rip all yoh clothes! P.N. Beautiful Lady Swordsman Carrying Meat
O: Huh? But I'm already naked… Okay! Here you go!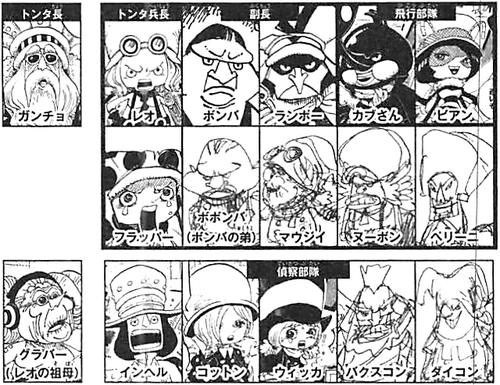 Top Row: Gancho (Tonta-Chief); Leo (Tonta-Troop Leader); Bomba and Rampo (Vice-Chiefs); Kabu and Bian(Aviation Squad).
Middle Row: Flapper; Bobomba (Bomba's younger brother); Maujii; Nubon; Pellini.
Bottom Row: Grabar (Leo's grandmother); Inhel, Cotton, Wicca, Baxcon and Daikon (Reconnaissance Squad).